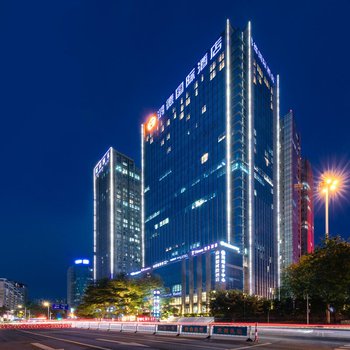 The Honder International Hotel (Hongde Guoji Jiudian)is located in the central business district of Guangzhou Tianhe District, at the intersection of Dongguan Zhuang Road and Guangyuan Expressway, close to guangzhou East Railway Station, Chinese Language College of Jinan University and other famous universities. 10 minutes to Citic Square, sports center, 20 minutes to Pazhou Convention and Exhibition Center, 30 minutes to the airport. Honder International Hotelby the Hong Kong list according to the international high star-level standard building, floor 30 floors, all show high quality luxury royal style, exquisite decoration simple, hotel facilities, collect a variety of types of guest rooms (163), the size of the banquet hall, multifunctional audio-visual hall, QingTai southeast Asian restaurant, qing 々,Zhen clam seafood hot pot, sushi bar, gym, swimming pool, outdoor leisure lobby bar at an organic whole, for business travel, holiday travel to provide unlimited fun. Quality service, quality life, all in Hongde! Welcome to experience!
Room, a German quality mattresses, exquisite and comfortable recreational sofa, hot and cold water exchange integration system, satellite TV, wireless WiFi, electronic safes, facilities, such as Banks, such as characteristic aroma room service 24 hours, make you fully enjoy relaxed after a day of travel fatigue cozy atmosphere, bring you surprise and new feeling.
The hotel has an international Golden Key membership and became one of the first training hotels of The International Golden Key Academy on March 1, 2017. All staff adhering to the "golden key service concept" is committed to providing each guest with subtle personalized services.